Wie pushberichten verstuurt, doet er goed aan dit zo vroeg mogelijk in de week te doen. Op maandagen opent namelijk 3,06 procent van de ontvangers de berichten, terwijl op zaterdag nog slechts 2,6 procent dit doet. De zondag is weer wat geschikter met 2,88 procent.
Dat blijkt uit een analyse van 4,4 miljoen berichten door Tapjoy. Ook vergroot verzenden rond het middaguur en in de lokale taal de kans op opening (46 procent). Temeer als een bericht binnenkomt zonder audio-notificatie. Geluidloze meldingen worden namelijk meer dan tweemaal zo vaak geopend.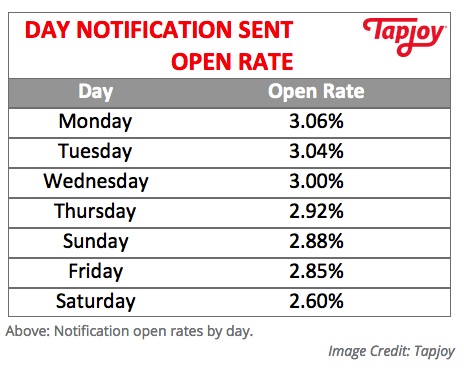 Hogere open rate door juiste woordkeuze
Ook de woordkeuze is van invloed op de open rates. Wat blijkt? Termen die in sales goed werken, werken ook uitstekend in pushberichten. Het gaat er dan vooral om duidelijk te maken dat de lezer iets terugkrijgt voor het openen van het bericht. Maar wees daarbij wel voorzichtig: subtiele woordverschillen kunnen tot flink lagere open rates leiden. De reden? Er moet een duidelijke urgentie uit spreken.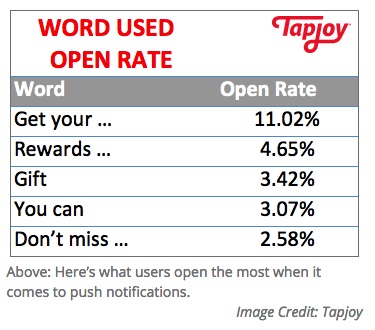 Wekelijkse verzending beste frequentie
App-gebruikers houden niet van te veel of te weinig pushnotificaties. De juiste frequentie is een wekelijkse verzending, blijkt uit het onderzoek van Tapjoy. De open rate is dan 3,03 procent, terwijl dagelijkse of maandelijkse berichten beduidend minder vaak geopend worden.
Betere conversie op Android
Tot slot wordt duidelijk dat Android-gebruikers een hogere open rate laten zien van pushberichten dan iOS-gebruikers: 3,10 versus 2,28 procent. Dat is maar liefst een verschil van 30 procent. De reden daarvoor kan een verschillende omgang met notificaties zijn. Op Android blijft de notificatie in het beginscherm staan, als de gebruiker er nog niets mee heeft gedaan. Bij iOS verdwijnt het direct zodra de telefoon ontgrendeld wordt.
*) Een deel van dit artikel werd eerder gepubliceerd in het novembernummer van Emerce magazine (#153).